✨Exclusive✨ 
The insoles are intended for people who want to rediscover a painless daily life, to be active again and to get rid of the physical tiredness created by plantar fasciitis. 
Relieves and eliminates pain

 

in the heel and

 

plantar arch

, caused by plantar fasciitis, due to heel spurs, flat feet, Achilles tendonitis and Morton's neuroma.

Ideal for

 

heavy legs

 

and

 

swollen ankles

, as they promote venous return.
Relieves

 

back pain (low back pain, sciatica)

 

and

 

hips

, thanks to the

 

rebalancing of the body's weight distribution

. 

Contains a

 

unique silicone gel

 

that relieves the heel and foot in critical areas neglected by the vast majority of internal shoe insoles.

It absorbs shocks and supports the entire foot

, not just the heel.

Developed in close collaboration with the

 

best specialists in podiatry.

Ideal for everyday use -

 

Walking, Sports

, Running, Jogging, Climbing, Walking and more!

The internal insole

 

adapts to all types of shoes

, whatever their size or width.

Light material that facilitates the breathing of the foot. 
Improves body balance and absorbs shocks
3D Feet insoles promote a better distribution of body weight over the support areas. They have a restorative effect on hip pain and lower back.  
Feet turned inwards or outwards, genu valgum or arched legs, these phenomena that disturb the harmony of the body are treated in depth. You can quickly achieve a normal posture!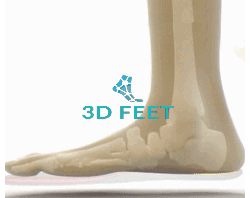 PERFECT FOR MEN AND WOMEN
The insoles are designed to ensure optimum relief up to size 45 for men and up to size 40 for women. If they are too big, they can be cut to the right size. 
HEALTHY FEET FOR HEALTHY LIFE
In addition to relieving your foot pain, our insoles will provide you with a feeling of well-being. Over time, your feet will regain perfect alignment, thus relieving the tension caused by the plantar fascia.
ACTION LIGHT LEGS
They avoid the discomfort associated with possible venous insufficiency, such as the sensation of heavy legs or tingling in the sole of the foot and ankle.
Thanks to the special silicone gel contained in the insole, it is the foot in its entirety that will be preserved and not just the heel.
MOVE, WALK, RUN 
Our 3D Feet orthopedic insoles will allow you to walk, run and stay longer without pain or discomfort, significantly reducing the pressure under your feet.
RESPECT FOR THE ENVIRONMENT
In addition to adapting to all types of shoes, 3D Feet insoles are biodegradable and entirely manufactured with ecological (natural) materials, respecting the environment.
MORE INFORMATION
Unissex

Sold in pairs

Materials: EVA + TPU

Cold or hand wash 

3D Feet insoles are adaptable to all types of shoes

23.4 grams per insole in sizes 35 to 40 (25 grams for sizes 40 to 45)