Let children play and learn at the same time to help them improve their skills!
Children are curious They like to observe and want to learn more about their environment over time.
Although children are often given some play time to release energy, for their early growth, it is better to let them play with educational toys instead of staring at the screen.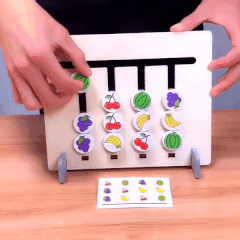 Educational toys such as Montessori toys will help your child develop the skills they need in life.
Educational toys made of high-quality wood. The cards contain colors and fruits to help them determine the order they need to form.

The game is easy to play because your child only needs to take a card and move the color or fruit to copy the exact string that is the same as the selected card.

This toy not only helps them develop critical thinking, but also reduces the time your child will still spend in front of the screen.
Specifications
Material: high quality wood
Age group: 2-7 years old
Size: 22.5 x 18cm