Upgrade Your Dining Room Decor for a Whole New Look in minutes!
Switch up your dining room decor with these tablecloth and chair slipcovers, and transform your dining furniture for a whole new look! These protective and decorative

slipcovers protect chairs from accidental spillage, dirt, and food stains

.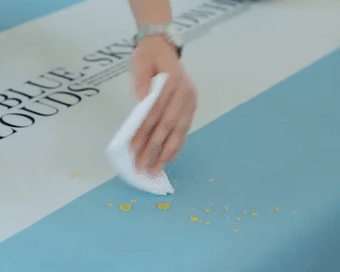 For those who love entertaining at home, these are great for your kid's themed birthday parties, baby showers, or private cocktail events, dinner parties, and celebrations.
Stretches to fit over the seat and back of most standard banquet and dining chairs. Please measure in advance to ensure the best fit prior to purchase
Slides on easily and fits snugly

– S

ewn-in elastic hems and corner seams ensure a secure fi

t that stays in place

Stain and wrinkle-resistant. Easy to clean and maintain for multiple re-uses

Available in many easy-to-match colors and print patterns that are sure to please you!
How to choose a tablecloth?
Step 1
Measure your table. There is a simple calculation you can use to determine the measurements of your tablecloth. To start, you'll need to know the measurements of your table.
For a rectangular or square-shaped table, use a measuring tape to measure your table's length and width.
For a round table, you'll need to measure the diameter of your table. A diameter is the straight line going through the center of a circle.
Step 2
Calculate the proper size for a square or rectangle table. If you have a rectangular table, you'll need to know your desired drop. Remember, this depends on the type of event you're planning.
To start, add twice the desired drop to both the length and width of the table. For example, say your table is 48 inches wide and 72 inches long. You want a 6-inch drop. You would add 12 to 48, to get 60. You would then add 12 to 72, to get 84.

The resulting values are the dimensions of the tablecloth you should aim to purchase. In our above example, you should look for a tablecloth that is 60 X 84 inches.

Step 3
Figure out the size for a round table. Calculating the dimensions of a round table is somewhat simpler. To figure out your length, you simply add twice your desired drop by your table's diameter. Say you want a 5-inch drop and your table has a diameter of 50 inches. You would add 10 to 50, getting 60. When purchasing a tablecloth, select a 60-inch round tablecloth.
Product Specifications
210GSM Fabric
This durable and easy to clean 210GSM tablecloth is made from 100% premium polyester fabric
Water Resistance
Water Resistance Tablecloth: Our holiday table cloth is water-resistant. No leaks, making it the perfect table cover protector for your table.
Multiple Application
This Premium tablecloth is perfect for everyday use, party, holidays, catering, cafes, special occasions, dinners, brunches, potlucks, BBQ's, buffets, baby showers, indoor and outdoor use, weddings and more.
Washing Tips
Wipes clean with a damp cloth (recommended), Machine washable, tumble dry on low. Iron at low settings if required. Wrinkle and color fade resistant tablecloth.
Instructions
To preserve elasticity, machine wash in cold water and iron at low heat temperature. Do not bleach.
NEW PRODUCTS TODAY:
2020 CHRISTMAS THEME STRUCK👉Click Here To View👈