Do you like wood carvings? Or maybe you have a friend who has a knack for wood carving. If so, look there! You won't want to miss out on this 4 inch angle grinder for yourself or your friend.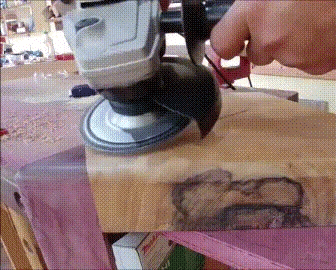 This tool is popular with wood carvers today! Because? Well, this tool can make any wood carving perfectly. Yes, it is that good! Watch this.
Features:
Complete woodworking projects quickly, safely and easily!
With this tool you can easily carve ANY wood !!!
Chainsaw and wood grinder are in one!
Fast, easy to install and with intuitive handling
22 Tooth Design offers a smooth "finished" surface which is ideal for resharpening.
Works conveniently with 4 "(100 mm) and 4-1 / 2" (115 mm) angle grinders.
Easily cuts through wood, regardless of grain or branch.
It can be used in all directions and has an anti-kickback action.
Provides perfect control when processing ANY type of wood.
Also for cutting, carving, removing and shaping plastics, ice and hard rubber.
It can be sharpened with a chainsaw or replaced if necessary.
Ideal for wood carving, molds, crafts etc!
Package Included: