Are you thinking of what gift are you going to give to someone? Are you thinking of a mesmerizing ambiance in your room? This Enchanted Rose Lamp is a perfect fit for you.
This enchanted rose, encased in a glass-domed lamp is just the touch of romance to add ambiance to any room.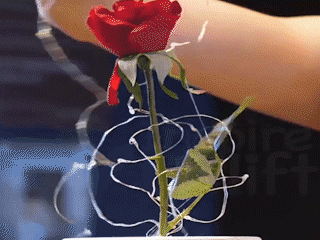 This captivating Enchanted Rose Flower Lamp is incredibly beautiful!
What a lovely and unique lamp to set on a table or what-not shelf.
The single red rose, surrounded by tiny sparkling white lights, is enclosed under a beautiful glass cloche, a timeless still-life.
FEATURES:
What an eye-catching addition to any room in your home! This exquisite lamp is crafted using quality materials and long-lasting LED lights. Due to the handcrafted nature of this product, there will be variations in color, size, and design, making each a remarkable piece of art! Each wooden base comes in your choice of color, either natural or espresso.