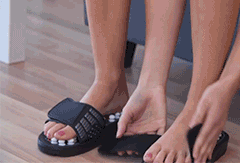 Massage reflexology shoes are a unique home stimulator designed for point impact on the reflex zones of the human feet. Despite its simple design, the massager in the form of slippers can improve blood circulation not only to the legs, but also other parts of the body, and doing so can contribute to the prevention and treatment of a wide variety of pain related problems.
Using acupressure to target specific energy areas, it can increase blood flow and oxygen, thereby enhancing the energy health benefits of the entire body. It not only relieves muscle soreness in the feet, but also relieves pressure on the whole body.

Check out the reflexology maps on the pictures to find out which areas of your body this shoes can help:
Similar to manual massage, orthopedic slippers affect acupressure, that can contribute to solving problems like:
Using them for a few minutes at home can produce great results. Or, if you are in great pain for having to stand for long hours, you can try wearing them for longer periods of time.
Size Chart
YOU MIGHT ALSO LIKE