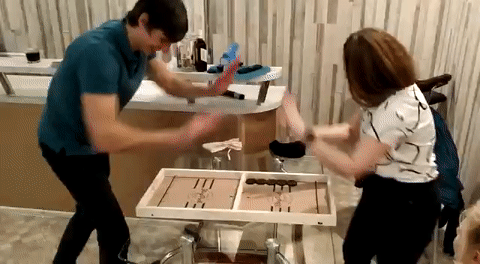 The perfect family game
During lockdown , a birthday, or for the holidays , liven up your meals. Suitable for 3-99 year olds , make your whole family meet the challenge.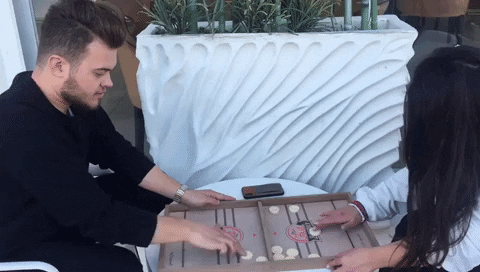 A unique gift
Because it is often difficult to choose a good gift for friends or family, we wanted to develop a board game suitable for everyone and for all ages. Suitable for any type of event!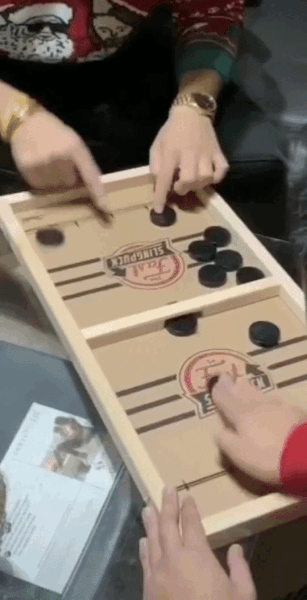 About this item
Material: Made of high-quality wood, safe and non-toxic, no harm to the body.

Features: Exercise children's hand-eye coordination and concentration ability, improve the flexibility of fingers in the process of using your hand and brain, and develop your imagination, space and creative thinking.

Small and easy to carry: Simple packaging, do not take up space, can be carried out when playing, light and easy to carry.

Challenge and amuse: It is a interactive game, kids can play with parents or friends. The process of playing can enhance the feelings among them and help them to get a wonderful memory together.

Number of players: 2

Product size: 35*22*2.2cm 
How to play: Each team has 5 chess pieces. Hold your fingers on the chess pieces and pull them back with rubber bands. Release your fingers to eject the chess pieces forward. Aim at the hole and shoot through the hole to the opponent. If you occupy the other side completely, you will be the winner. Two out of three sets match also can be adopted. Proper interaction with parents is an artifact for friends and family to decompress and entertain.
Package Contents: Chessboard * 1, Chess pieces * 10