Garden drill planter compatible with most power drills, make your planting work easy and fast!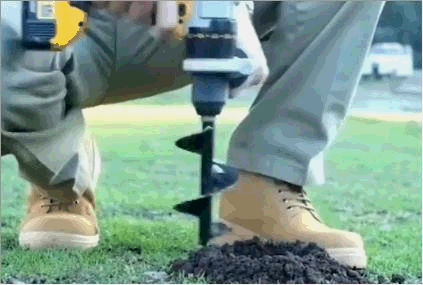 Suitable for various occasions
Flower planting, drill ice hole, bulb planting, drill post hole, dig umbrella hole and mix fertilizer, and etc.
Designed to help you plant your grass plugs and small annuals much faster than using a shovel or garden trowel, this drill bit actually pulverizes the soil, giving your plants better soil-to-root contact.
Highlights:
Multipurpose hole digger

- Use it for planting bedding plants, bulbs, seedlings, or fertilizing shrubs and trees to deep water aeration. You can even use it for cultivating soils, and weed and root removal.

Dig holes in seconds

 

-

 

Harnessing the power of your regular handheld drill (not included), you can quickly dig holes up to 7 inches deep and 1.75 inches wide in all soil types, leaving dirt around the edge of the dug hole for easy packing.

Compatible with electric and cordless drill

-

 

Use in any electric or cordless drill that can accommodate a 3/8" bit. The best tool for digging holes in your yard.

Made of durable materials

 

- Has carbon steel rod and alloy steel blades for ultimate durability and maximum digging performance. A long-lasting gardening tool that'll serve you for many years to come.
The auger drill bit makes all of the guesswork in planting bulbs come true. Simply drill as far as the auger will go and lift the auger out of the hole – it is that simple!
Effortlessly dig post holes or even bring it on vacation to drill a hole in the sand to anchor your beach umbrella.
Quickly digs holes up to 7 inches deep and 1.75 inches wide using the power of your handheld drill.
SPECIFICATIONS:
Material: Carbon Steel + Alloy Steel
Size: 
4 x 22 cm/ 1.6 x 9 inches
4 x 45 cm/ 1.6 x 18 inches
Color: Black
PACKAGE INCLUDES:
1 x Garden Auger Spiral Drill Bit