🎉Father's Day Promotion! 75% Off Only Today!🎉
We are going to

sell out 80 items

at the lowest price at

$99.90!
Then the rate will

reset

to the original cost of

$189.90!
BUY IT NOW, DO NOT HESITATE !!!
Are you suffering from muscle pain or joint soreness?
Need a small and convenient device to combat muscle soreness and discomfort?
Want to enjoy relaxing and stimulating deep tissue massages at home?
This personal handheld massage gun is ready for you!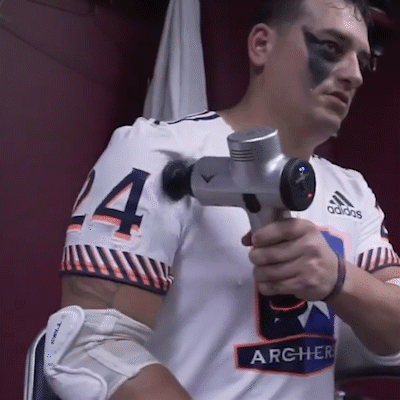 This neck massager pad has 3 speed strength levels, which allow you to get the right and appropriate amount of pressure to relieve your muscle pain.
Helps relieve muscle soreness and stiffness with 4 interchangeable head attachments. Promotes circulation and Improves range of motion and helps accelerate warm up and recovery.
Using Unique Quiet Glide technology with a high-torque motor and three adjustable speed settings delivering up to 3, 200 percussions per minute.
Rechargeable lithium-ion battery (Up to 4 hours of use per charge).
At just 2.5lbs the massage gun lightweight durable ergonomic design allows you to take the comfort of relaxation on-the-go.
Our built-in pressure sensor technology gives visual feedback throughout your massage process, to ensure your therapeutic sessions are more accurate.
This massager tool is not only great for relieving chronic sore muscles, working out a difficult muscle knot, and workout recovery, but also to relieve achy legs, back, neck and shoulder from sitting for extended periods while at work or traveling. Many customers love it to loosen up the muscles for a deeper stretch before doing yoga or pilates.
Powerful high-torque motor featuring Quiet Glide technology. Can be used to activate, soothe, or loosen muscles. Featuring high frequency and high speed.

CERTIFICATION AUTHORITY:
Specifications:
Charging Voltage: 110-220 V
Working Time: 4-5 Hours
Charging Time: 2-3 Hours
Battery Capacity: 2500 mAh
Vibration Frequency: 1300-4600 rpm/min
Package Includes:
1* Massage gun
1* Flat head attachment
1* Spiral head attachment
1* Globule head attachment
1* Forked head attachment
1* User's Manual
1* Charger
1* Portable Carry Case