Release Your Inner Designer And Get Inventive With These All-New Building Toys!
Are you looking for ingenious and imaginative ways to kill your boredom?
Do you really want to have fun and enjoy a sense of productivity?
Then you're definitely in for a fascinating surprise. This new modern building toy is just for you!
Introducing Magical Sticks and Balls, Entertainment for all ages!
Discover building concepts to suit all generations, find out unique and different ways to approach the structural designs with Moza Magical Sticks and Balls.
Unleash your artistic abilities and become a better visionary builder! You can assemble the magnetic sticks that have the quality of magnetism. They easily stick together and let you form a myriad of geometric shapes and patterns. To make everything a lot better, we made our balls not from magnet, so that way it is easier to control.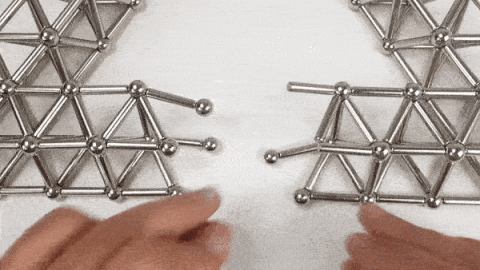 Challenge your kids and friends to build the best ideas using their cognitive skills!
Get Engaged With Your Family And Quit Computer Games! 
Time to switch off the TV and computer. Hours and hours of non-stop screen time is harmful to your body and weaken your potential for creativity. Utilize the time and mental ability to have a healthier relationship by enjoying together with the whole family.
🕒 60 Minutes of Physical Activity Daily
Research shows kids gain more valuable social skills from playing with family. Children's anxiety levels can drop with mental and physical activity, which can strengthen children's social and personal development. WHO (World Health Organization) recommends youngsters should get 60 minutes or more physical activity on a daily basis.
Kids need a distraction – something engaging and fun to do – so they can give up on their screen usage, and we have a solution exactly for that!