Organize your suitcase or backpack with our handy Packing Cubes!
Keep your suitcase, backpack or trolley always neat and organized with this handy 6-piece packing cubes set. With these six suitcase organizers your life as a traveler becomes a lot easier. The Packing Cubes are perfect for all types of trips. Whether for a city trip, a sun holiday or a long backpacking trip: the packing cubes should not be missing on any trip!
Clear layout
You can easily store all your clothes in the six different sizes of cubes. There is enough space for t-shirts, pants, sweaters, underpants and socks. By rolling up the clothes and organizing them in the packing cubes, you also prevent wrinkles. This way you always have nice clothes when you arrive at your holiday destination. By using the packing cubes you also ensure that unpleasant odors cannot spread.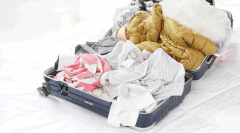 Always a neat suitcase or backpack
Packing and unpacking your backpack or suitcase is done in no time with these handy packing cubes. Moreover, you can store more clothes in it than if you were to put everything loose in your suitcase or backpack. This way you always have a neat suitcase when you travel!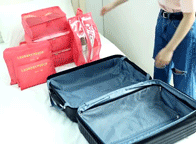 Pros and cons
➕  Always an overview in your suitcase or backpack
➕ Six different cubes sizes
➕ Prevents unpleasant odors
➕ Increase the capacity of your suitcase or backpack
➕ Prevents wrinkled clothes

➕ Three  cubes are provided with mesh, so you can immediately see the content
➕ Strong zippers 
➕ Suitable for any suitcase, trolley or backpack
➕ Space-saving and provide structure
➖ One set is not enough for a large suitcase
➖ There is no special cube for shoes
Ideal for a tour or backpacking trip 



Do you often make a tour, do you go backpacking or do you not stay in one place for long? Then these packing cubes will provide you with a lot of convenience! You can now pack and unpack your backpack or suitcase within 10 seconds. In addition, you can now clearly separate the different clothing so that you always know where exactly everything is. Organize 
your dirty laundry in our handy Laundry Bag and you're all set to go on an organized journey!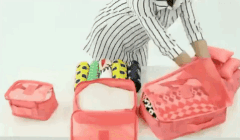 Specifications
Consisting of 6 bags

Lightweight: 200 grams

Material: Water-repellent polyester 

Suitable for every suitcase, backpack, weekend bag and trolley

Are you a traveler who likes to take a lot of stuff with you on a trip? Then we recommend purchasing 2 sets.

For a city trip or backpacking trip, 1 set is sufficient

Tip

: Roll up your clothes so that you can take even more with you and there are no wrinkles

Also view our 6-piece packing cubes

 with handy shoe compartment