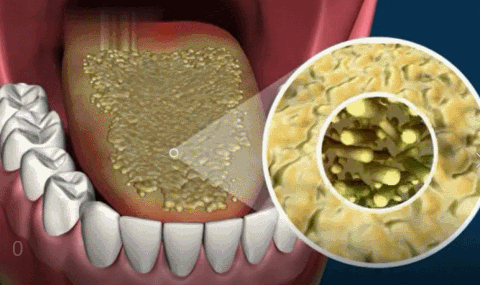 ◆◆◆ Let's get rid of bad breath! ◆◆◆
A white object attached to the surface of the tongue. This is called tongue coating.
Thick tongue coating may make it difficult to feel the taste or cause bad breath.

In addition, tongue coating is inhabited by tooth decay, periodontal disease bacteria that feed on food from the tongue, and can lead to problems in oral care.
If you are worried about bad breath or want to keep your mouth clean, clean your tongue and remove tongue coating.

Use a tongue cleaner and mouthwash together to further prevent bad breath!
Relieve stress with better breathing!
What do you get from a tongue scraper?
✅ Better breathing: Accumulation of bacteria, plaques, and sugar on your tongue, creating a really stinking, violent layer! Removing this layer over a few seconds will greatly improve breathing.
✅ Improving oral hygiene: Protecting your teeth from plaque leads to healthy gums and strong teeth. Invest in a future smile.
✅Health Improving Health: With a tongue scraper that cleans your breath, daily hygiene and lifestyle are greatly improved. Never think of bad breath again!
✅ Better Taste: Yes! Use the tan scraper for 20 seconds every day to spread the taste!
✅ Easy to use: Pour water into your mouth all at once and drag the breath rescue tongue scraper from behind your tongue to the front. Hooray!
Awareness about self-breathing?
Nobody likes bad breath. Brushing your teeth twice a day and using a mouthwash may not help.
Bad breath can't be marked with gum or mint-it must attack the root cause!
Cleaning the tongue should be part of your daily routine. 30 seconds twice a day is enough.
customer's voice:
Breath rescue rescued me from embarrassing bad breath! I've been using it for a week and it made a huge difference! It is easy to use and very effective. You can literally see that the gang has been deleted.

-Yuki Motojo
  ⭐⭐⭐⭐⭐
Verified Purchase ✅

I love breath rescue! Everything in this product is perfect. Good quality surgical grade stainless steel at a reasonable price. Easy to use, easy to care for, a flexible, sturdy and smooth curve that easily reaches the back of your tongue.

-Naoto Sato
  ⭐⭐⭐⭐⭐
Verified Purchase ✅

High quality products at a very good price. Breath Rescue works well and you don't have to worry about it twisting or losing shape. I recommend it to my friends. Keep your tongue clean.

-Satoru Sawada
  ⭐⭐⭐⭐⭐
Verified Purchase ✅