Did You Know?
Many cat owners accept vomiting as a natural part of their cat's behaviour. However, studies show that excess vomiting can be limited by simply encouraging better eating habits. We're pretty sure that kitty is interested. Now let's catch you up!
The Orthopedic Cat Bowl has been shown to reduce strain and prevent gastric reflux and stomach pain. It's been designed at a 15° angle which keeps your cat's head straight while they feed, promoting healthy eating and digestion. This elevation also reduces strain on your pet's joints and neck making it perfect for quick eaters and older cats.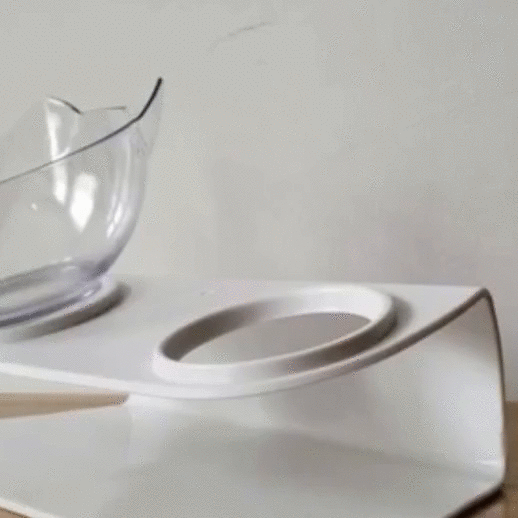 Our Anti-Vomiting Orthopedic Cat Bowl is a stylish, functional and is 100% designed with your cat's well-being in mind! This safeguards your kitties from the pains of vomiting which is proven to be destructive especially in their old age.  
See your pets' overall health improve by just changing the way they eat!  We're pretty sure kitty's all-in. Now let's catch you up.
Features:
Its BPA free and Non-Toxic- so don't worry if kitty licks the bowl all the way to the bottom!
Single or double- Want one bowl or two? Better yet, what does kitty want? Whatever you two decide, we've got you covered.
Stand included- You may not know it but with your cat eating at an elevated position is something good for them. It helps with digestion as it opens up their airflow.
Tilted- The bowls rest on a slope so that kitty's food falls towards them. Their whiskers won't touch and they'll have easier access to their meals.
Non-slip- Got a messy eater? You don't want the stand moving around on your hungry cat. This is non-slip and tip-proof, so everything stays just where it should.
Adorable:-Cats are cute all on their own, this just takes things to the next level. Get your camera ready and say "meow."
SPECIFICATIONS:
Material: BPA Toxic-Free 

Plastic 

Size:

Double: 28.5 x 14 x 8 cm

Single: 13 x 14.5 x 7.5 cm

Holds 150 grams of cat food or 350 ml of water
PACKAGE INCLUDES:
1 PC x Anti-Vomiting Orthopedic Cat Bowl
See What People Are Saying: